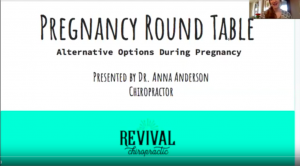 Pregnancy and chiropractic go together like peanut butter and jelly! Check out our webinar with Dr. Anna to learn how you can begin to feel empowered during your pregnancy and your birth!
Click here to watch: Alternative Options and Ideas for a Happy Healthy Pregnancy
During pregnancy, you get lab tests, urine tests, and an extensive health history performed. Every time you go to our provider they check your weight, ask if you have questions, and listen to the heart beat. If you're like every other Mom, you've probably got a million questions and even more fears and concerns. Pregnancy is treated as a condition by most health providers; something that is scary and full of risks.
Did you know that 95% of pregnancies and births are uncomplicated?
Join Dr. Anna Anderson of Revival Chiropractic to learn how your body works during pregnancy and birth, what we should actually do when we experience symptoms and how you can connect with your baby now.
At Revival Chiropractic, we strive to empower you, support the birth process that you desire and to be a positive provider in a world full of fear. If you have questions or would like to connect with us, please feel free to reach out at welcome@revivalchiropracticmn.com. Learn more on our website at RevivalChiropracticMN.com, Facebook and Instagram.